Regular price
Sale price
HK$188.00
Unit price
per
Sale
Sold out
這款純素洗髮梘含有沙漠棗油,可溫和清潔、滋潤和滋養所有類型的頭髮。配方含有 93% 的天然成分,可軟化頭髮,恢復柔順,並散發出淡淡的杏香味。 
滋養作用 - 不會刺激頭皮。 這款洗髮梘豐富的泡沫和帶有淡淡的杏子和茶香,可為您帶來非凡的感官體驗。
即使頭髮看起來很健康,頭髮也需要溫和的清潔,保護頭皮,以防止頭皮油脂失衡,並幫助頭髮得到最佳的抵抗力。例如:內部壓力(飲食不足、疲倦、壓力......)和外部壓力(污染、過度頻繁的洗滌)。 ..)。洗髮水使用的頻率越高,洗滌用品應該越溫和。
含有 93% 的天然成分,純素、無硫酸鹽、無矽且可生物降解。
每天或每週 2 至 3 次:
Lazartigue 滋養洗髮皂有兩種不同的使用方式:
1) 將固體洗髮梘弄濕,在手掌上揉搓,然後將泡沫放在頭皮上,或將洗髮梘直接塗抹在濕頭髮上,以打圈的方式打出泡沫。
2) 按摩並沖洗乾淨。
3) 請記住在使用後將固體洗髮水擦乾,以便盡可能長時間地保存它。
我們專家的建議:
"在泡沫中加入一滴 Lazartigue Huile des Rêves,以獲得額外的柔軟感。
Enriched with desert date oil, this vegan solid shampoo gently cleanses, hydrates and nourishes all hair types. Its formula with 93% ingredients of natural origin softens hair, restores suppleness and fragrances it with a delicious apricot scent.
Nourishing action - Gentle to the scalp - Unequaled sensorial appeal
This shampoo provides an exceptional sensory experience with its rich and generous lather and its delicious olfactory signature with notes of apricot and tea.
Sulphate-free - Silicon-free- Biodegradable - Vegan
Even if it appears healthy, normal hair needs gentle cleansing that respects the scalp to prevent imbalances from developing and to help it optimally resist both internal stresses (dietary deficiencies, tiredness, stress...) and external stresses (pollution, overly frequent washing...). The more frequently the shampoo is applied, the more gentle the washing must be.
Cleansing that respects the hair fibre and the scalp preserves the health and beauty of normal hair over time.
A botanical formula with 93% ingredients of natural origin, which is vegan, sulphate-free, silicone-free and biodegradable.    
Main active ingredient of natural origin:  
Desert date oil:  This botanical oil is ethnically produced in Burkina Faso from desert date seeds. Nutritive and rich in antioxidants, this oil is exceptionally concentrated in essential fatty acids, giving it moisturising, nourishing and enhancing properties.
INCI
HYDROGENATED VEGETABLE OIL, SODIUM COCOYL ISETHIONATE, AQUA/WATER/EAU, POLYGLYCERYL-4 LAURATE, GLYCERIN, BALANITES ROXBURGHII SEED OIL, ERYTHRITOL, PARFUM (FRAGRANCE), PCA GLYCERYL OLEATE, DECYL GLUCOSIDE, TETRASODIUM GLUTAMATE DIACETATE
Texture:
Solid bar with generous lather
Fragrance:
Delicious olfactory notes with apricot aromas gently blended with tea.
Apply daily or 2 to 3 times per week:
  Lazartigue nourishing shampoo bar can be used in two different ways:  
1) Moisten the solid shampoo, rub it in the palm of your hands and place the lather on your scalp or apply the shampoo directly to your wet hair in small circular movements to create a lather.  
2) Massage and rinse off/  
3) Remember to dry your solid shampoo after use in order to preserve it for as long as possible.
  Advice from our expert:
  "Add a drop of Lazartigue Huile des Rêves to the lather for extra softness and sensory appeal.
Share
View full details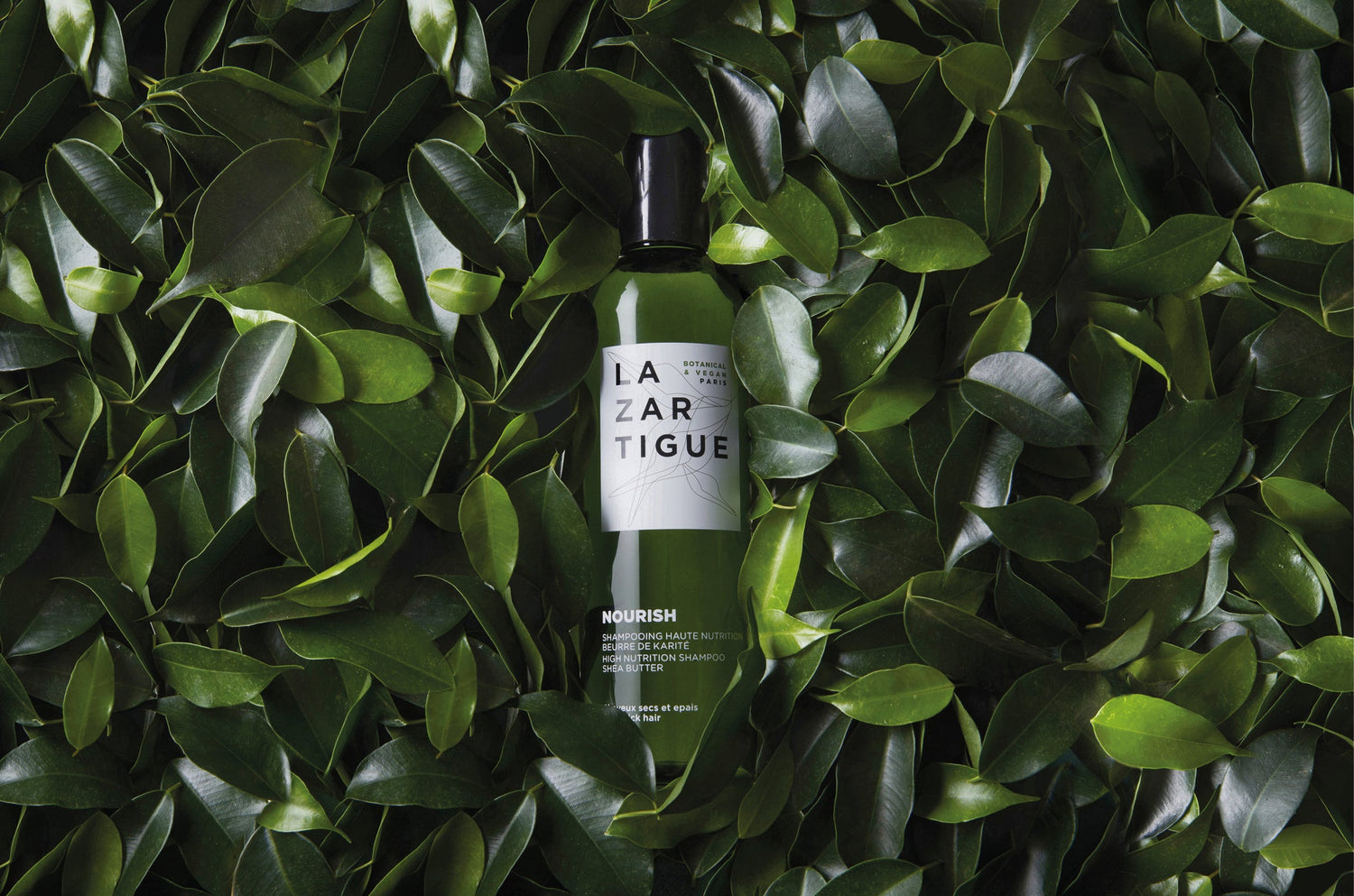 LAZARTIGUE, THE RENEWAL
Jean-François Lazartigue, a visionary '60s hairdresser, is one of the first to recognize the notable virtues of botanical ingredients on the hair health and to offer personalized haircare treatments. Today, we continue to embody his passion and values through our products. Our promise remains the same: expert and green hair care for naturally beautiful hair.