Regular price
Sale price
HK$268.00
Unit price
per
Sale
Sold out
這款洗髮水可在15 天內去除頑固的頭皮屑,防止頭皮屑再次出現。其植物配方由 96% 的天然成分製成,可淨化頭皮、重新平衡微生物群並減少不適和刺激,並具有臨床證明的效果。富含棗皮和 Equiscalp®,其溫和、不含硫酸鹽的配方可去除污垢和雜質,而不刺激頭皮,減少發紅和瘙癢,讓頭皮感覺乾淨清爽。 去除頑固的頭皮屑 - 防止突然發作 - 維持平衡的微生物群 - 舒緩瘙癢。
頭皮屑通常是由頭皮微生物群的不平衡引起的 — 這些微生物群是頭皮表面不可分割的一部分。當它平衡時,微生物群是一個有益的細菌生態系統,保護頭皮免受環境壓力(壓力、生活方式、使用刺激性產品等)的影響。
當微生物群脆弱的平衡被破壞時,就會發生一些不良的變化。頭皮會加速細胞更新過程,導致皮膚堆積及脫落。

重新平衡微生物群對於有效對抗頭皮屑並防止頭皮屑至關重要。
Lazartigue 提供了兩種去屑洗髮水,可有效持久地對抗頭皮屑。我們的 step 1 Clear Intensive Shampoo 可立即去除始於乾燥或油膩頭皮相關的頭皮屑,同時保持微生物群的平衡。我們的 step 2 Clear Regulating Shampoo 可在短短 15 天內舒緩和清潔頭皮,防止頭皮屑再次出現。
This soothing and cleansing shampoo lastingly removes stubborn dandruff and prevents the reappearance of flakes in just 15 days. Its botanical formula is made from 96% naturally-sourced ingredients that purify the scalp, rebalancing the microbiota and reducing discomfort and irritation with clinically proven results. Enriched with Jujube bark and Equiscalp®, its gentle, sulphate-free formula removes dirt and impurities without irritating the scalp, reducing redness and itching, and leaving it feeling clean and refreshed.
Removes stubborn dandruff – Prevents flare ups – Maintains a balanced microbiome – Soothes itching
Its refreshing gel texture envelopes hair in a minty-fresh fragrance with sandalwood base notes.
Sulphate-free – Silicone-free – Biodegradable formula – Vegan
Dandruff is often caused by an imbalance in the scalp's microbiota - the living microorganisms that form an integral part of the scalp's surface. When it's balanced, the microbiota is a beneficial ecosystem of bacteria that live in harmony and protect the scalp from environmental stresses (stress, lifestyle, use of irritating products, etc.).
When the microbiota's fragile balance is disrupted, irritation can occur. To defend itself, the scalp accelerates the cell renewal process, causing an accumulation of skin that no longer sheds naturally.
This is followed by clusters of yellow dead skin cells on the scalp, in hair, and even on shoulders – aka, dandruff.
Rebalancing the microbiota is essential to effectively combat dandruff and keep it at bay.
Biodegradable formula made with 96% naturally-sourced ingredients Sulphate-free, silicone-free, vegan 
For maximum tolerance and lasting results, our Clear shampoo range contains gentle, sulphate-free, cleansing formulas that respect the balance of the scalp.
 
Vegan formula made with 96% naturally-sourced ingredients, silicone and sulphate-free.  
A duo of high-performance active ingredients:
Jujube bark: a botanical active ingredient taken from an extract of jujube, a leafy plant used in traditional Amazonian medicine. Jujube bark is a powerful natural anti-dandruff agent with a saponin-rich molecular composition that gently removes dead skin. 
Equiscalp®: a naturally-sourced active ingredient extracted from Fuji apple stem cells. Equiscalp® soothes sensitive scalps while maintaining the balance of the microbiota, and is clinically proven to reduce flaking, itching and redness.
INCI: AQUA/WATER/EAU, SODIUM LAUROYL GLUTAMATE, DECYL GLUCOSIDE, PROPANEDIOL, SODIUM COCOAMPHOACETATE, MALUS DOMESTICA FRUIT CELL CULTURE EXTRACT, SODIUM COCOYL ALANINATE, PROPYLENE GLYCOL, CITRIC ACID, ACRYLATES/C10-30 ALKYL ACRYLATE CROSSPOLYMER, PCA GLYCERYL OLEATE, XANTHAN GUM, GUAR HYDROXYPROPYLTRIMONIUM CHLORIDE, PARFUM (FRAGRANCE), SODIUM BENZOATE, ETHYLHEXYLGLYCERIN, SACCHARIDE ISOMERATE, ZIZIPHUS JOAZEIRO BARK EXTRACT, HYDROXYACETOPHENONE, SODIUM HYDROXIDE, SODIUM CITRATE, TOCOPHEROL  
Texture:
Transparent fluid gel  
Fragrance:
A unique olfactory signature based on fresh notes of mint and green tea, carried by a delicate blend of white flowers with a hint of sandalwood.
Share
View full details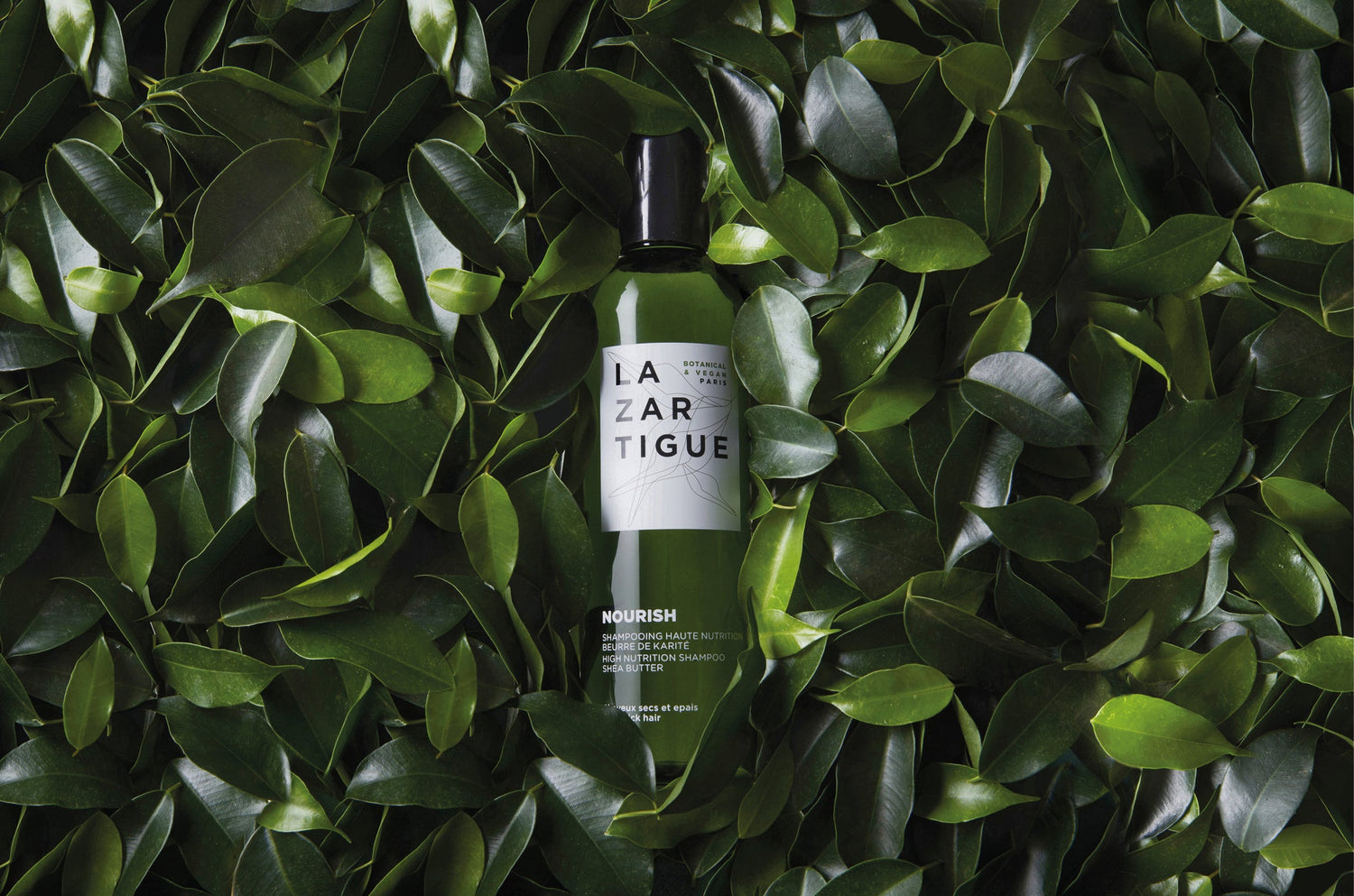 LAZARTIGUE, THE RENEWAL
Jean-François Lazartigue, a visionary '60s hairdresser, is one of the first to recognize the notable virtues of botanical ingredients on the hair health and to offer personalized haircare treatments. Today, we continue to embody his passion and values through our products. Our promise remains the same: expert and green hair care for naturally beautiful hair.