Regular price
Sale price
HK$268.00
Unit price
per
Sale
Sold out
這款超級清新的凝膠實現了雙重排毒功效:荷荷芭微粒輕柔地去角質頭皮,果酸潔淨頭皮。按摩的動作刺激微循環,重新為頭皮注氧。頭皮恢復了最佳平衡。A dual detox action in an ultra-fresh gel: jojoba beads gently exfoliate the scalp and fruit acids cleanse. The massage action stimulates microcirculation and reoxygenates the scalp. It regains its optimal balance.
就像肌膚一樣,頭皮必須定期排毒,才能保持健康並促進健康的頭髮生長。事實上,如果不清除它們,污染、造型或染料殘留物、死皮等雜質會直接進入頭髮毛囊,最終削弱頭髮。因此,頭皮磨砂是重新為頭皮注氧並創造有利於健康頭髮生長的環境的好方法。Just like the skin, the scalp must be regularly detoxified to stay healthy and allow healthy hair to grow. In fact, if they are not eliminated, impurities, dead skin and residues of pollution, styling or dyes go directly into the hair bulbs which end up weakening them. Scalp scrub is therefore a good way to re-oxygenate the scalp and create an environment conducive to healthy hair growth.
Exfoliate Scalp Scrub含有95%天然成分,其純素配方不含硫酸鹽和矽靈。
主要天然活性成分:
果酸:潔淨頭皮並作為溫和的去角質。
荷荷芭微粒:機械性去角質和去除沉積物。
果酸:乙醇酸,蘋果酸,酒石酸。
荷荷芭:荷荷芭酯。Exfoliate Scalp Scrub contains 95% naturally derived ingredients. Its vegan formula is sulphate-free and silicone-free.
Principal natural active ingredients:
- Fruits acids: cleanse the scalp and act as a gentle peel.
- Jojoba beads: mechanically exfoliate and remove deposits.
FRUITS ACIDS: GLYCOLIC ACID, MALIC ACID, TARTARIC ACID.
JOJOBA: JOJOBA ESTERS.
Ingredients:
AQUA/WATER/EAU, GLYCERIN, HYDROXYPROPYL STARCH PHOSPHATE, JOJOBA ESTERS, Perfume (FRAGRANCE), GUAR HYDROXYPROPYLTRIMONIUM CHLORIDE, PROPANEDIOL, DIPOTASSIUM GLYCYRRHIZATE, SODIUM BENZOATE, MENTHYL PCA, SODIUM LACTATE, POTASSIUM SORBATE, GLYCOLIC ACID, TETRASODIUM EDTA, MENTHOL, SUCROSE, UREA, SODIUM CITRATE, SODIUM HYDROXIDE, DIPROPYLENE GLYCOL, MALIC ACID, TARTARIC ACID, CI 77891 (TITANIUM DIOXIDE), CI 42090 (BLUE 1 LAKE), CI 19140 (YELLOW 5 LAKE)
The list of ingredients may be subject to modifications, we advise you to check the list appearing on the purchased product.
Texture:
Transparent gel and exfoliating micro-beads
Fragrance:
Frechness of aloe vera sap with fruity notes
Share
View full details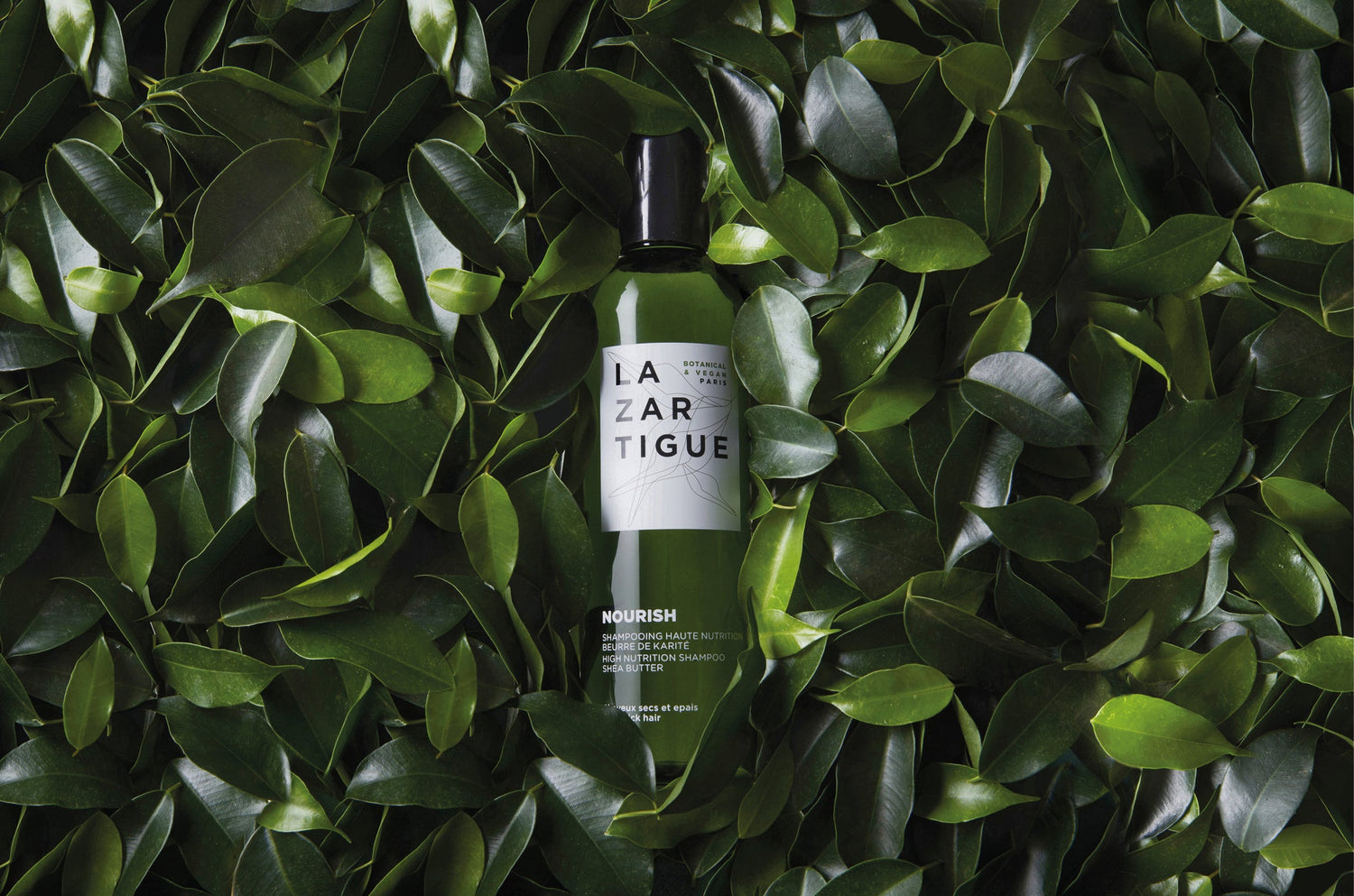 LAZARTIGUE, THE RENEWAL
Jean-François Lazartigue, a visionary '60s hairdresser, is one of the first to recognize the notable virtues of botanical ingredients on the hair health and to offer personalized haircare treatments. Today, we continue to embody his passion and values through our products. Our promise remains the same: expert and green hair care for naturally beautiful hair.